Find out how you can support local businesses & shop safe
We have been getting a lot of questions as to how people can help local businesses during COVID-19. Health agencies have determined the best way to slow the spread is to limit access to certain businesses and ask people to practice social distancing. This means you avoid large groups, stay six feet away from others, wash your hands, cover your cough, and isolate yourself if you start showing symptom of illness.  Click here to learn more.
But we've found some ways that you can support these local businesses through this time AND practice social distancing.
Remember to visit the City of Ferndale COVID-19 Response Page for the most updated local information about preparedness, prevention, and updates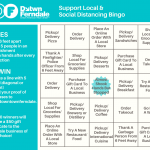 You can also participate in Social Distancing Bingo until March 30, 2020. Create a line with 5 boxes and submit proof of purchase to info@downtownferndale.com. The first 10 submissions will receive a $50 gift certificate to the business of their choice!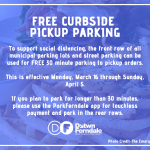 Order Takeout or Pickup Curbside – Free Parking!!
In an effort to make it easy for you to support local business and social distancing as easy as possible, we've compiled a list of which businesses are offering delivery and take-out food options. 
>CLICK HERE FOR LIST OF CURRENT DINING & GROCERY OPTIONS